Vacancies
Page last edited 3,248 days ago
ShoutWiki — express yourself and be heard!
Jump to navigation
Jump to search
Open Positions
Please note that all of the following positions are unpaid internships; if you're looking for a job that can get you rich quick, then we're not for you.
Technical
---
See also; Other roles at ShoutWiki.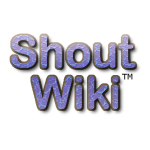 ShoutWiki is one of the fastest growing wiki hosts around today. We host 12685 active wikis, in languages from every corner of the globe. Many of these sites are community editable and are full of great content; a few prime examples of what the community at ShoutWiki work on are Jedipedia, the biggest Star Wars encyclopaedia in the Finnish language, Star Wars Merchandise is a database of all Star Wars themed goods and Fish Hooks Wiki is all about the Disney TV show Fish Hooks!
Benefits
Join a team of enthusiastic, positive staff!
Be a known member of a growing community of wonderful and weird wiki people.
Plenty of optional internal training from your own and other departments, giving you practical experience in the fields.
The chance to watch online communities grow and have a huge influence on the running of ShoutWiki!
Requirements
All positions will also have these requirements unless stated otherwise. Each role will have additional requirement to those listed below.
A passion for wikis and all things wiki!
Ability to use basic features of the MediaWiki software. MediaWiki is the basis of us, we require all staff to know how to use it before they join us as it's one of the key tools we use, as well as a method of communication between user and staff groups.
Be mature and down to earth. Our staff should be laid back - we don't want really strict and pushy people, but at the same time, they are representing us and our website.
Being a team player and ability to work with others. This is a key to the job as you'll more than likely be dealing with users on a regular basis and other staff members.
Be able to understand and write English to a good standard. Our staff primarily communicate in English, however we do accept applications from those who speak other languages.
A ShoutWiki.com user account.
Other Roles
You may not see a role here that suits you, and if you think you could fill a missing whole in our team, get in touch! Send your suggested position and why you think you'd be the best candidate for the job to sboj

moc.ikiwtuohs. We'll happily read CVs in .pdf or .doc (and its LibreOffice/Open Office equivalents) as well as any web based portfolios you have available as well.
If you don't think you're cut out for being a member of staff, or if you're into editing wikis primarily, you're more than welcome to start editing any of the public wikis that can be found across ShoutWiki. There are also jobs for graphic and web designers at the Logo Creation Wiki, spam and vandalism combating tasks to complete which are organised at the CVN wiki and if you're into writing but there doesn't happen to be a wiki on your favourite topic, start one today!